Categoria: Client Alerts
Aplicação da Reforma Trabalhista - Comissão do TST
Application of the Labor Reform - TST Commission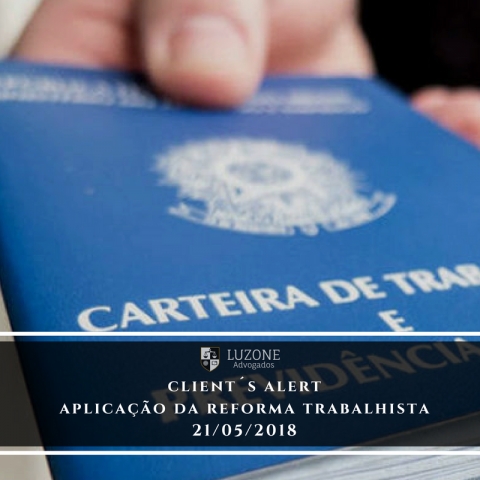 Uma comissão de ministros do tribunal superior do trabalho, formada para discutir a reforma trabalhista, publicou um parecer sobre a aplicação da lei 13.467/17, apresentando proposta de regulamentação da lei.
Conforme o parecer, a aplicação das normas processuais da CLT que foram alteradas ou acrescentadas a partir da Lei 13.467/17 é imediata, mas as mudanças não devem atingir situações anteriores e sob a égide da lei revogada.
Um dos pontos mais importantes do parecer refere-se à condenação em honorários advocatícios sucumbencias, que, de acordo com o parecer do TST, é aplicável apenas às ações propostas após novembro de 2017, quando a lei entrou em vigor.
No total, a proposta possui 21 artigos, ainda regula alterações como a desconsideração da personalidade jurídica, que, conforme o entendimento da comissão, é aplicada ao processo do trabalho a partir das inovações trazidas pela Lei 13.467/17.
A comissão do TST sugere ainda a edição de uma instrução normativa sobre o tema, cujas normas serão encaminhadas aos demais ministros para julgamento pelo pleno do TST, ainda sem data definida.
A commission of ministers of the High Labor Court, formed to discuss the labor reform, published an opinion on the application of Law 13.467/17, presenting a proposal to regulate the Law.
According to the opinion, the application of the procedural norms of the CLT that were modified or added from Law 13.467/17 is immediate, but the changes should not reach previous situations and under the aegis of the repealed Law.
One of the most important points of the opinion concerns the punishment in defeated party´s fees, which, according to the opinion of the TST, is applicable only to the actions proposed after November 2017, when the Law came into force.
In total, the proposal has 21 articles, it also regulates changes such as the disregard of the legal personality, which, according to the commission´s understanding, is applied to the labor claims bases on the innovations brought by Law 13.467/17.
The TST commission also suggests the issuance of a normative instruction on the subject, which rules Will be sent to the other ministers for judmente by the TST plenary, with no date dafined.
Mais Notícias: