Categoria: Client Alerts
Greve - Medidas Provisórias
Strike - Executive Orders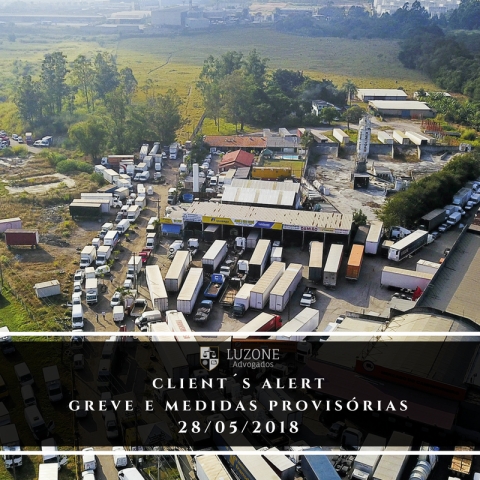 Por conta do acordo com os caminhoneiros grevistas, o governo editou três medidas provisórias, que impactam diretamente o setor de transportes e as empresas que dependem do setor para realizar suas operações.
Além das novas medidas provisórias, o governo federal cedeu e decidiu congelar por 60 dias a redução do preço do diesel na bomba em R$ 0,46 por litro. A iniciativa foi uma das ações anunciadas para atender as pautas dos grevistas.
A Medida Provisória 831 define que a Companhia Nacional de Abastecimento (Conab) contratará transporte rodoviário de cargas, com dispensa do procedimento licitatório, para até 30% da demanda anual de frete da empresa.
A Medida Provisória 832 institui a chamada Política de Preços Mínimos do Transporte Rodoviário de Cargas e estabelece a tabela mínima para o frete. Não há valores nem percentuais, mas detalhes sobre como os números serão negociados.
Por último, a Medida Provisória 833 é a que determina que os veículos de transporte de cargas que circularem vazios ficarão isentos da cobrança de pedágio sobre os eixos que mantiverem suspensos, valendo para todas as rodovias do país.
Because of the agreement with the striking truck drivers, the government has issued three executive orders, which directly impact the transport sector and companies that depend on the sector to carry out their operations.
In addition to the new executive orders, the federal government gave in and decided to freeze for 60 days the reduction of the price of diesel at the pump by R$ 0.46 per liter. The initiative was one of the actions announced to meet the guidelines of the strikers.
Executive order 831 defines that the National Supply Company (Conab) will contract road freight transport, with exemption from the bidding procedure, for up to 30% of the company's annual freight demand.
Executive order 832 establishes the so-called Minimum Price for Road Freight Transport Policy and establishes the minimum table for freight. There are no values or percentages, but details on how the numbers will be traded.
Lastly, Executive order 833 determines that the vehicles of transport of loads that circulate empty will be exempt of the toll collection on the axes that they keep suspended, valuing for all the highways of the country.
More News: