Categoria: Luzone Legal
Luzone Advogados promove o evento: Doing Business in Portugal
Luzone Advogados promotes the event: Doing Business in Portugal
Por: Luzone Advogados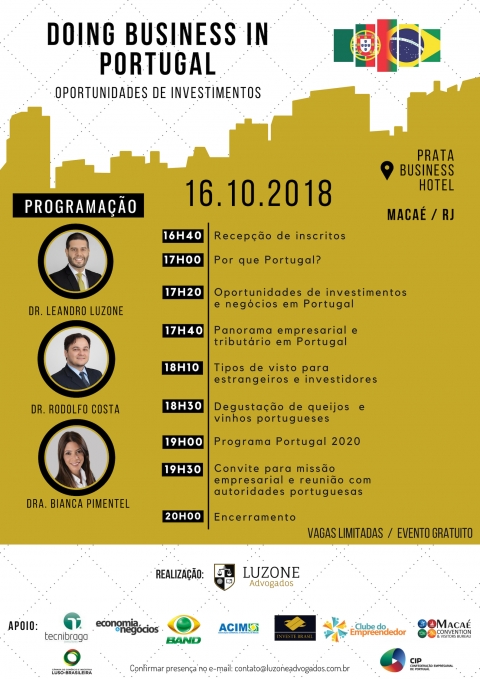 O escritório Luzone Advogados promoverá no próximo dia 16 de outubro de 2018, em Macaé, Rio de Janeiro, o evento "Doing Business in Portugal", que terá como assunto principal as oportunidades de negócios e investimento em terras lusitanas!
O evento conta com apoio de entidades brasileiras e portuguesas e terá a participação de empresários e investidores, com a oportunidade de troca de experiência e conhecimento, além de degustação de vinhos portugueses.
The law firm Luzone Advogados will promote the event "Doing Business in Portugal", on October 16, 2018, in Macaé, Rio de Janeiro, which will focus on business opportunities and investment in Lusitanian lands!
The event counts on the support of Brazilian and Portuguese entities and will have the participation of entrepreneurs and investors, with the opportunity to exchange experience and knowledge, as well as tasting Portuguese wines.
More News: