Category: Luzone Legal
A insegurança jurídica causada pela demora na finalização da auditoria para pagamento dos contratos da Petrobras
The Legal Insecurity caused by the delay in the termination of the audit for the payment of the contracts of Petrobras
By: Lorena Leal - Advogada/Lawyer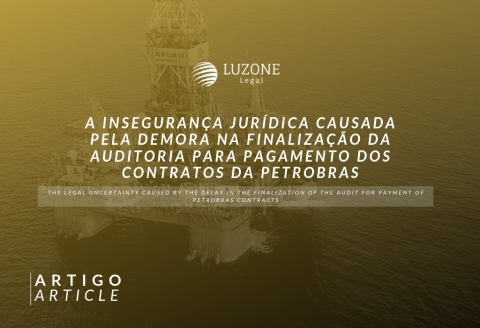 Apesar das novas perspectivas para a retomada do mercado offshore, as empresas do setor petrolífero ainda vêm encontrando dificuldades na conclusão de contratos com a Petrobras, tendo em vista a espera indeterminada imposta para a finalização do procedimento de fiscalização pela Petrobras, o que impede diretamente o pagamento dos serviços prestados.
Embora as empresas offshore sigam estritamente as regras do procedimento licitatório iniciado pela Petrobras, cumprindo todos os deveres previstos em contrato e prestando os serviços do plano da licitação, acabam enfrentando um impasse na hora da auditoria dos serviços executados.
Na prática, o que se observa é o fim do prazo de vigência do contrato sem a disponibilização pela Petrobras dos resultados encontrados, mesmo passados vários meses do término do contrato, ocasião em que a empresa não recebe a contrapartida financeira pelos serviços prestados.
A situação se demonstra ainda mais grave quando se observa a existência de cláusula contratual que, enquanto não se conclui a fiscalização e o fechamento do contrato, autoriza a Petrobras a reter valores em pagamentos devidos às empresas contratadas, apesar das garantias já disponibilizadas pelas empresas no momento da assinatura do contrato.
Nesse sentido, algumas decisões dos tribunais já entenderam pela ilegalidade dessas retenções, as quais só são permitidas pela legislação brasileira estritamente nos casos de descumprimento do contrato pela empresa contratada e de rescisão do correspondente contrato celebrado com o ente público.
É importante lembrar que o ente público não pode se escusar de promover a devida apuração do contrato sob a mera justificativa de não dispor de profissionais suficientes em seu quadro pessoal, pois a lei possibilita a contratação de terceiros para atuar na fiscalização.
A verdade é que a demora na realização da auditoria por parte da Petrobras fere diretamente a boa-fé, ora esperada no momento da assinatura do contrato, ao frustrar o direito da empresa contratada de obter o pagamento pelos serviços efetivamente prestados.
Embora a solução amigável seja preferível, certo é que as tentativas de contato com a Petrobras se revelam cada vez mais ineficientes, considerando a indicação de prazos que são reiteradamente descumpridos, o que desequilibra economicamente as empresas, que, muitas vezes, dependem do recebimento desses valores para se restabelecer no mercado de petróleo e gás.
Em tempo, é importante ressaltar que a Petrobras possui alternativa para solucionar esse problema, podendo realizar uma quitação parcial no contrato de forma a faturar os serviços que já foram concluídos e as medições já realizadas, ainda que não finalizada a fiscalização dos serviços prestados pela empresa contratada.
Porém, não é o que vemos acontecer.
Diante deste cenário, cabe às empresas offshore acionar a justiça a fim de garantir a fixação de prazo para que a Petrobras termine a fiscalização e, consequentemente, libere os valores retidos à empresa contratada. Do contrário, a viabilidade da atividade empresarial fica comprometida pela ineficiência da referida sociedade de economia mista.
THE LEGAL INSECURITY CAUSED BY THE DELAY IN THE TERMINATION OF THE AUDIT FOR THE PAYMENT OF THE CONTRACTS OF PETROBRAS
Despite the new prospects for the resumption of the offshore market, companies in the oil sector are still finding it difficult to conclude contracts with Petrobras, given the indefinite wait imposed for the Petrobras inspection procedure, which payment for services rendered.
Although offshore companies strictly follow the rules of the bidding process initiated by Petrobras, fulfilling all the obligations set forth in the contract and providing the services of the bidding plan, they end up facing a deadlock in the audit of the services performed.
In practice, what is observed is the end of the term of the contract without the availability by Petrobras of the results found, even after several months of the end of the contract, when the company does not receive the financial consideration for the services provided.
The situation is even more serious when there is a contractual clause that, until the inspection and closure of the contract is concluded, authorizes Petrobras to retain amounts in payments due to contracted companies, despite the guarantees already made available by the companies in the company. signature of the contract.
In this sense, some decisions of the courts have already understood the illegality of these withholdings, which are only permitted by Brazilian law strictly in cases of breach of contract by the contracted company and termination of the corresponding contract entered into with the public entity.
It is important to remember that the public entity can not refrain from promoting due diligence under the mere justification of not having enough professionals in its personnel, since the law allows the hiring of third parties to act in the supervision.
The truth is that the delay in the performance of the audit by Petrobras directly injures the good faith, which was expected at the time of signing the contract, by frustrating the contracted company`s right to obtain payment for the services actually rendered.
Although the friendly solution is preferable, it is true that attempts to contact Petrobras are becoming increasingly inefficient, taking into account the timeframes that are repeatedly violated, which economically unbalances the companies, which often depend on the receipt of these values ??to reestablish in the oil and gas market.
In time, it is important to emphasize that Petrobras has an alternative to solve this problem, and may perform a partial discharge in the contract in order to bill the services that have already been completed and the measurements already performed, although not completed the inspection of the services provided by the company contractor.
But it is not what we see happen.
Given this scenario, it is up to the offshore companies to initiate legal proceedings in order to guarantee the deadline for Petrobras to complete the inspection and, consequently, release the amounts withheld from the contracted company. Otherwise, the viability of the business activity is compromised by the inefficiency of the said mixed-economy society.
More Articles: