Categoria: Luzone Legal
Global Law Experts reconhece Luzone Legal - Advogados na área do Direito Empresarial no Brasil
Global Law Experts recognized Luzone Legal for its work on Corporate Law in Brazil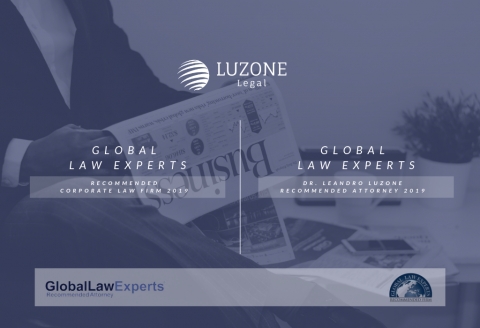 Global Law Experts reconhece Luzone Legal - Advogados na área do Direito Empresarial no Brasil
A prestigiada publicação Global Law Experts reconheceu a Luzone Legal - Advogados pelo seu trabalho em Direito Empresarial no Brasil, na edição de 2019.
A Luzone Legal - Advogados é assim reconhecida pela Global Law Experts por proporcionar aos seus clientes serviços legais de qualidade e pela expertise demonstrada na área empresarial.
O fundador da banca, Dr. Leandro Luzone, também foi recomendado como advogado na área do Direito Empresarial, acompanhando a indicação do escritório no referido diretório jurídico internacional.
O Global Law Experts é um dos mais prestigiados guias internacionais de advocacia. Este reconhecimento advém de uma extensa análise das capacidades de diferentes sociedades de advogados e as suas principais áreas de atuação.
The prestigious publication Global Law Experts recognized Luzone Legal for its work on Corporate Law in Brazil, in the 2019 edition.
Luzone Legal is thus recognized by Global Law Experts for providing its clients with quality legal services and demonstrated expertise in the corporate area.
The firm's founder, Dr. Leandro Luzone, was also recommended lawyer in the area of Corporate Law, accompanying the appointment of the firm in the international legal directory.
Global Law Experts is one of the most prestigious international law firms guides. This recognition comes from an extensive analysis of the capabilities of different law firms and their main areas of expertise.
More News: