Categoria: Luzone Legal
Luzone Legal amplia sua presença internacional para a Índia
Luzone Legal expands its international presence to India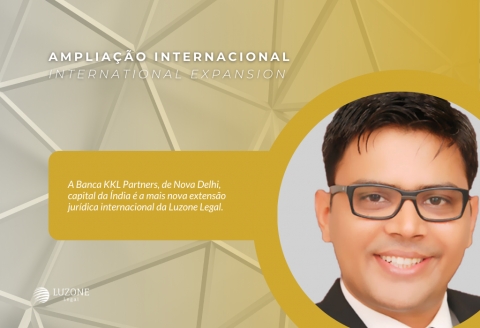 Luzone Legal anuncia a sua mais nova parceria jurídica internacional com a banca KKL Partners, firma full-service em Nova Delhi, capital da Índia.
O Sr. Ashish Vats, advogado sênior da KKL Partners, passará a fazer parte da equipe Luzone Legal, traçando novas possibilidades e abrindo caminhos para novas oportunidades.
O intuito da Luzone Legal é sempre oferecer aos clientes e parceiros uma maior capilaridade internacional, ampliando nossos setores e áreas de atuação, consolidando, cada vez mais, a nossa presença global.
Luzone Legal expands its international presence to India
Luzone Legal announces its newest international legal partnership with KKL Partners, a full service firm in New Delhi, the capital of India.
Mr. Aashish Vats, a senior lawyer at KKL Partners, will become part of the Luzone Legal team, outlining new possibilities and pavig the way for new opportunities.
The aim of Luzone Legal is always to its costumers and partners a greater international reach, expanding our sectors and areas of operation, consolidating, more and more, our global presence.
More News: