Categoria: Luzone Legal
Luzone Legal presta Homenagem ao Dia do Advogado
Luzone Legal pays tribute to the Brazilian Lawyers Day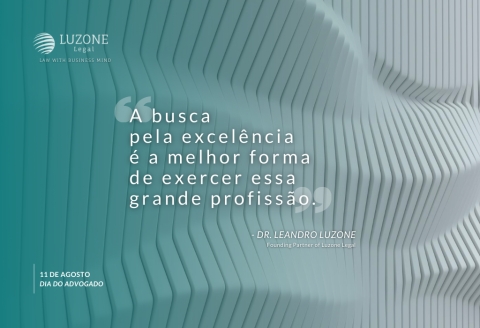 Neste dia 11 de agosto, a Luzone Legal prestou sua homenagem a todas e todos os advogados que buscam sempre exercer a profissão com presteza, ética e profissionalismo.
Em um cenário de conflitos ocasionados pelos desdobramentos da pandemia, é importante que o advogado enxergue além da crise para contribuir para uma sociedade mais justa.
Conforme as palavras do Dr. Leandro Luzone, sócio fundador da banca, "A busca por excelência é a melhor maneira de exercer essa grande profissão".
O escritório Luzone Legal reconhece o trabalho e presta sua homenagem ao dia de todos os advogados.
On this 11th of August, Luzone Legal paid tribute to all and all lawyers who always seek to exercise their profession with promptness, ethics and professionalism.
In a scenario of conflicts caused by the consequences of the pandemic, it is important for the lawyer to see beyond the crisis to contribute to a more just society.
According to the words of Dr. Leandro Luzone, founding partner of the bank, "The search for excellence is the best way to exercise this great profession".
The Luzone Legal firm recognizes the work and pays homage to the day of all lawyers.
More News: