Categoria: Luzone Legal
Banca Luzone Legal publica Legal Guide que trata dos impactos jurídicos do Coronavírus
Luzone Legal publishes Legal Guide that deals with the legal impacts of Coronavirus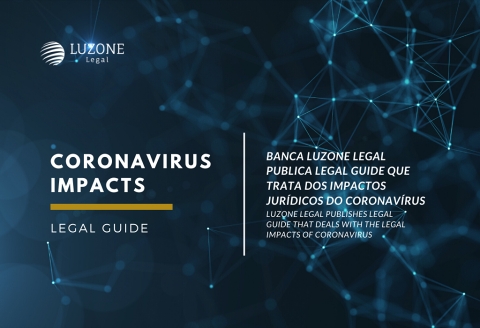 Banca Luzone Legal publica Legal Guide que trata dos impactos jurídicos do Coronavírus
O escritório Luzone Legal elaborou uma cartilha que aborda os principais impactos jurídicos da pandemia do Covid-19 no Brasil.
O documento dispõe sobre os efeitos da propagação do coronavírus nas áreas do Direito Trabalhista, Civil e Consumidor e Direito tributário. O sócio fundador da banca, Leandro Luzone, informou que o guia tem como objetivo auxiliar as empresas a lidar com os desafios do contexto atual.
"A quantidade de dúvidas e incertezas das empresas é enorme nesse momento de crise ocasionada pelo vírus. Recebemos questionamentos constantes dos clientes sobre como agir diante de tantas novidades legislativas. Nosso papel é trazer segurança jurídica para as empresas, e o Legal guide preparado por nossa equipe, é uma importante ferramenta para isso", comentou Luzone.
Com relação à área trabalhista, a cartilha aborda a interrupção do contrato de trabalho por suspeita de contaminação, suspensão do contrato de trabalho de trabalhador contaminado, suspensão do con-trato de trabalho, antecipação de férias individuais, férias coletivas, antecipação de férias, banco de horas, segurança de exigências administrativas em segurança e saúde no trabalho, teletrabalho, for-necimento de material de proteção, rescisão do contrato de trabalho por força maior e adiamento do recolhimento do FGTS.
Já na área cível e consumerista, o Legal Guide abrange o descumprimento contratual, cancelamento de passagens aéreas, modificação de reservas de hospedagem, e, na área tributária, adiamento do pagamento do Simples Nacional, medidas tomadas pelo Governo Federal, alternativas para quitação e extinção dos débitos tributários, quitação das dívidas bancárias e medidas tributárias estaduais e municipais.
O Legal Guide foi preparado pela advogada Lorena Leal, na seção de Direito do Trabalho, e pelos advogados Leandro Luzone e Rodolfo Costa, na seção de Direito Civil, Consumidor e Tributário empresarial.
Clique aqui para ler a cartilha:
http://www.luzonelegal.com/pt/legal-guides
https://www.migalhas.com.br/quentes/322720/luzone-legal-publica-legal-guide-que-trata-dos-impactos-juridicos-do-coronavirus
Luzone Legal publishes Legal Guide that deals with the legal impacts of Coronavirus
Luzone Legal has prepared a booklet that addresses the main legal impacts of the Covid-19 pande-mic in Brazil.
The document deals with the effects of the spread of the coronavirus in the areas of Labor, Civil and Consumer Law and Tax Law. The founding partner of the firm, Leandro Luzone, informed that the guide aims to help companies deal with the challenges of the current context.
"The amount of doubts and uncertainties of the companies is enormous in this moment of crisis caused by the virus. We receive constant inquiries from customers about how to act in the face of so many legislative news. Our role is to bring legal certainty to companies, and the Legal guide prepa-red by our team is an important tool for that", commented Luzone.
With regard to the labor area, the booklet addresses the interruption of the employment contract due to suspected contamination, suspension of the contaminated worker employment contract, suspensi-on of the employment contract, anticipation of individual vacations, collective vacations, anticipa-tion of vacations, hour bank, security of administrative requirements in occupational safety and health, teleworking, provision of protective material, termination of employment contract by force majeure and postponement of FGTS payment.
In the civil and consumer area, the Legal Guide covers breach of contract, cancellation of airline tickets, modification of accommodation reservations, and, in the tax area, postponement of payment of Simples Nacional, measures taken by the Federal Government, alternatives for settlement and extinction tax debts, settlement of bank debts and state and municipal tax measures.
The Legal Guide was prepared by the lawyer Lorena Leal, in the Labor Law section, and lawyers Leandro Luzone and Rodolfo Costa, in the Civil, Consumer and Tax Law section.
Click here to read the booklet:
http://www.luzonelegal.com/pt/legal-guides
https://www.migalhas.com.br/quentes/322720/luzone-legal-publica-legal-guide-que-trata-dos-impactos-juridicos-do-coronavirus
More News: