Categoria: Luzone Legal
LUZONE LEGAL É RECOMENDADA PELA LEADERS IN LAW
LUZONE LEGAL IS RECOMMENDED BY LEADERS IN LAW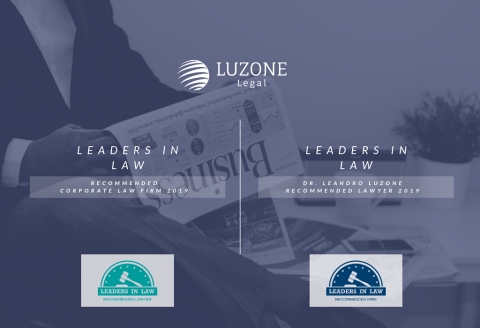 LUZONE LEGAL É RECOMENDADA PELA LEADERS IN LAW
Luzone Legal Advogados foi recomendada pelo diretório jurídico internacional Leaders in Law na atuação em Direito Empresarial / Societário no Brasil. Seguindo a indicação da banca, o sócio Leandro Luzone também foi recomendado como advogado na área Empresarial / Societária no Brasil.
Leaders in Law fornece uma base de dados confiável de advogados especialistas ao redor do globo. Com um processo de seleção rigorosa, os advogados e as bancas bem-sucedidas que se juntam à base de dados de líderes em direito têm um histórico comprovado de sucesso, com seus próprios atributos e conhecimentos exclusivos de sua área de atuação e exigência local.
LUZONE LEGAL IS RECOMMENDED BY LEADERS IN LAW
Luzone Legal was recommended by International legal directory Leaders in Law on Corporate Practice in Brazil. Following the indication of the firm, the partner Leandro Luzone was also recommended as Corporate attorney in Brazil.
Leaders in Law provides a confident data base of expert lawyers around the globe. With a rigorous selection process, the successfull lawyers and firms who join the Leaders in Law data base have a proven track record of success, with their own unique attributes and knowledge of their practice area and local requirement.
More News: