Categoria: Luzone Legal
Leandro Luzone se reúne com o Governador do Rio de Janeiro no Palácio da Guanabara
Leandro Luzone meets with the Governor of Rio de Janeiro at the Guanabara Palace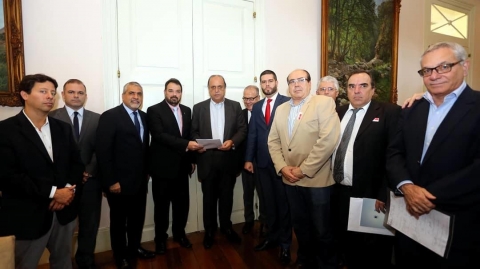 Dr. Leandro Luzone, participou, no mês de julho, da reunião com o Governador do Rio de Janeiro, Secretários e Instituições Empresariais, no Palácio Guanabara, no Rio de Janeiro, à respeito da concessão privada do aeroporto da cidade de Macaé.
O esforço visa buscar o apoio da classe política contra a possível exclusão do aeroporto local do lote de concessões, em detrimento da priorização do aeroporto de Vitória no Espírito Santo.
Dr. Leandro Luzone, participated in the meeting with the Governor of Rio de Janeiro, Secretaries and Business Institutions, at the Guanabara Palace in Rio de Janeiro, in July, regarding the private concession of the airport of the city of Macaé.
The effort aims to seek the support of the political class against the possible exclusion of the local airport from the lot of concessions, to the detriment of the prioritization of the Vitória airport in Espírito Santo.
More News: