Categoria: Luzone Legal
Luzone Legal apoiará o evento Business Conference: Estratégias para Proteger seu Patrimônio em Tempos de Incertezas - Estratégias Jurídicas e Financeiras
Luzone Legal will support the event Business Conference: Strategies to Protect Your Assets in Times of Uncertainty - Legal and Financial Strategies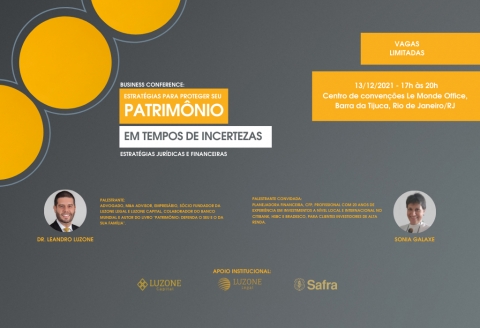 Esta edição do Business Conference será um evento corporativo voltado para estratégias, tanto jurídicas como financeiras, de proteção patrimonial em tempos de incertezas.
O palestrante principal, Dr. Leandro Luzone, advogado, M&A Advisor e empresário, sócio fundador da Luzone Legal, escritório de advocacia empresarial, e da Luzone Capital, empresa de intermediação de negócios e assosria em fusões e aquisições, colaborador do Banco Mundial na área do Direito Societário e de investimentos no Brasil e autor de vários livros, incluindo `Patrimônio: Defenda o seu e o de sua Família - Estratégias Jurídicas para Proteger seu Patrimônio`, falará sobre como qualquer pessoa pode alcançar a proteção jurídica de seu patrimônio e de sua família, independemente do perfil de cada proprietário de bens, investidor ou empresário. Ele mostrará como implantar as estratégias jurídicas mais eficazes para defender o patrimônio de pessoas e empresas agindo sempre dentro da legalidade. Dr. Leandro falará sobre 10 estratégias nacionais e internacionais para a proteção jurídica patrimonial.
A palestrante convidada, Sra. Sonia Galaxe, consultora financeira com 5 anos de experiência como líder de equipe no Citibank Brasil, segmento Citigold Private Client, assessorando clientes de alto poder aquisitivo, planejadora financeira com 15 anos de experiência como conselheira de investimentos, em Porto Rico, Brasil e Colômbia, ajudando clientes a definir metas financeiras de longo prazo e costumizando suas estratégias. Galaxe abordará o tema da proteção financeira do seu dinheiro em momentos de estagflação, que reúne inflação e estagnação de crescimento econômico. Ela mostrará a importância da diversificação em diferentes produtos de investimentos e classes de ativos, além de diversificação entre diferentes regiões e moedas, abordando o cenário macroeconômico e estratégias financeiras de proteção.
Cronograma do Evento:
17h-17h10 - Abertura
17h10 - 17h55 - Palestra Dr. Leandro Luzone `10 Estratégias Jurídicas para Proteção Patrimonial Nacionais e Internacionais`
18h-18h10 - Intervalo
18h10 - 18h55 - Palestra Sonia Galaxe `Cenário Macroeconômico e Estratégias Financeiras e Proteção`
19h - 19h30 - Sessão de Autógrafos do Livro `Patrimônio: Defenda o seu e o da sua Família`
19h30 - 20h - Coquetel
20h - Encerramento
Para se inscrever, clique aqui.
Business Conference: Strategies to Protect Your Assets in Times of Uncertainty - Legal and Financial Strategies
This edition of the Business Conference will be a corporate event focused on strategies, both legal and financial, for protecting assets in times of uncertainty.
The keynote speaker, Dr. Leandro Luzone, lawyer, M&A Advisor and entrepreneur, founding partner of Luzone Legal, a business law firm, and Luzone Capital, a business intermediation and mergers and acquisitions consultancy, World Bank collaborator in the area of Corporate and Investment Law in Brazil and author of several books, including `Assests: Defend yours and your Family - Legal Strategies to Protect Your Assests`, will talk about how anyone can achieve the legal protection of their assets and his family, regardless of the profile of each property owner, investor or entrepreneur. It will show you how to implement the most effective legal strategies to defend the assets of people and companies, always acting legally. Dr. Leandro will speak about 10 national and international strategies for the legal protection of assets.
Guest speaker, Ms. Sonia Galaxe, financial consultant with 5 years of experience as a team leader at Citibank Brazil, Citigold Private Client segment, advising high purchasing power clients, financial planner with 15 years of experience as an investment adviser, in Porto Rico, Brazil and Colombia, helping clients define long-term financial goals and customizing their strategies. Galaxe will address the issue of financial protection of your money in times of stagflation, which brings together inflation and stagnation of economic growth. It will show the importance of diversification across different investment products and asset classes, as well as diversification across different regions and currencies, addressing the macroeconomic scenario and hedging financial strategies.
Event Schedule:
5 pm - 5:10 pm - Opening
5:10 pm - 5:55 pm - Leandro Luzone Lecture `10 Legal Strategies for Nacional and International Heritage Protection`
6 pm - 6:10 pm - Break
6:20 pm - 6:55 pm - Sonia Galaxe Lecture `Macroeconomic Scenario and Financial Protection Strategies`
7 pm - 7:30 pm - Book Signing Session `Heritage: Defend Yours and Your Familiy`
7:30 pm - 8 pm - Cocktail
8 pm - Closing
To register, access the link.
More News: