Categoria: Luzone Legal
Luzone Legal amplia o serviço de Gerenciamento Jurídico de Crise
Luzone Legal expands the Legal Crisis Management service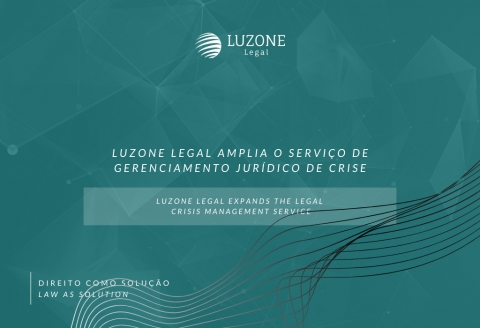 Luzone Legal amplia o serviço de Gerenciamento Jurídico de Crise
O escritório Luzone Legal expandiu seu serviço de Crisis Legal Management (Gerenciamento Jurídico de Crise) para o setor empresarial, nesse período de crise nos negócios, quando muitas empresas estão fechadas acumulando prejuízos e perdas financeiras.
Para tanto, o escritório preparou um Legal Guide específico sobre esse tipo de estratégia de superação de crises, que está baseado na experiência de gestão consultiva de passivos e atuação judicial adquirida pelo escritório na área corporativa.
Nossa equipe está preparada para oferecer aos clientes uma prestação de serviços jurídicos estratégicos, seja no contencioso de grande escala ou em demandas consultivas. Na área de renegociação de contratos, o foco está na elaboração de um plano estratégico, com a respectiva condução de negociações e mediações pelos experts de cada área de atuação.
"Queremos amenizar ao máximo os prejuízos financeiros das empresas nesse período de crise", afirma Leandro Luzone, fundador da banca Luzone Legal.
O Crisis Legal Management tem como objetivo a atuação rápida e eficaz para preservação do patrimônio e dos ativos dos clientes empresariais, representa uma solução inteligente e altamente eficaz para que o empresário possa respirar um pouco mais em meio aos graves problemas econômicos em seu negócio.
Para baixar o Legal Guide "Crisis Legal Management, favor clicar aqui.
Luzone Legal expands the Legal Crisis Management service
Luzone Legal has expanded its Crisis Legal Management service to the corporate sector, in this period of business crisis, when many companies are closed accumulating financial losses and debts.
In this way, the firm has prepared a specific Legal Guide on this type of crisis overcoming strategy, which is based on the experience of advisory management of liabilities and judicial performance acquired by the firm in the corporate area.
Our team is prepared to offer to the clients the provision of strategic legal services, whether in large-scale litigation or in consultative demands. In the area of contract renegotiation, the focus is on the preparation of a strategic plan, with the respective conduct of negotiations and mediation by experts in each area of expertise.
"We want to minimize the financial losses of the companies in this period of crisis as much as possible", says Leandro Luzone, founder of Luzone Legal firm.
Crisis Legal Management aims to act quickly and effectively to preserve the assets of corporate clients, represents a smart and highly effective solution so that the entrepreneur can breathe a little more amid the serious economic problems in his business.
To download the Legal Guide "Crisis Legal Management, please click here.
More News: