Categoria: Luzone Legal
Dra. Lorena Leal publica artigo sobre os reflexos da pensão alimentícia na folha de pagamento
Dra. Lorena Leal published article about precautions about discount of alimony on payroll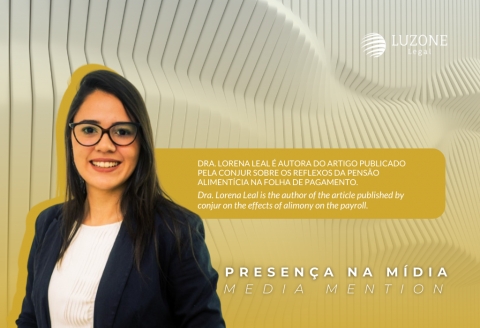 Em seu mais recente artigo, a Dra. Lorena Leal aponta os cuidados que uma empresa deverá tomar no que tange ao desconto de pensão alimentícia em folha de pagamento, visando maior respaldo e segurança jurídica.
A autora é pós-graduada em Novo Direito do Trabalho pela PUCRS e teve seu artigo publicado na renomada plataforma jurídica digital ConJur.
https://www.conjur.com.br/2021-mai-02/lorena-dina-reflexos-pensao-alimenticia-folha-pagamento-empresa#:~:text=Com%20rela%C3%A7%C3%A3o%20%C3%A0s%20verbas%20rescis%C3%B3rias,acordo%20ou%20na%20decis%C3%A3o%20judicial
In her most recent article, Dr. Lorena Leal points out the precautions that a company should take with regard to the discount of alimony on payroll, aiming at greater support and legal certainty.
The author has a post-graduate degree in New Labor Law from PUCRS and her article was published on the renowned digital legal platform ConJur.
https://www.conjur.com.br/2021-mai-02/lorena-dina-reflexos-pensao-alimenticia-folha-pagamento-empresa#:~:text=Com%20rela%C3%A7%C3%A3o%20%C3%A0s%20verbas%20rescis%C3%B3rias,acordo%20ou%20na%20decis%C3%A3o%20judicial
More News: