Categoria: Luzone Legal
Dra. Valderez Simensatto passa a integrar a equipe da Luzone Legal Advogados
Dra. Valderez Simensatto joined the team of Luzone Legal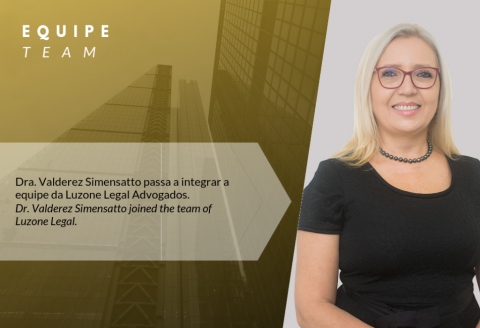 Dra. Valderez Simensatto passa a integrar a equipe da Luzone Legal Advogados
A advogada paulistana, Dra. Valderez Simensatto, acaba de entrar para a sociedade Luzone Legal Advogados, integrando a área de Direito de Família Empresarial.
Com uma experiência de 25 anos de atuação, ela chega para fortalecer a operação e estratégia do escritório para atender à crescente demanda de clientes empresariais na área de família.
Dra. Valderez possui especialização em Contratos pela CEU Law School; em Direito Comparado, pela Pontifícia Universidade Católica de São Paulo; e em Direito Constitucional, pela Faculdade de Direito Damásio de Jesus.
Sua atuação na Luzone Legal será especializada nas complexas relações familiares que envolvem a área empresarial.
Desejamos sucesso e conquistas nesta nova etapa profissional!
Dra. Valderez Simensatto joined the team of Luzone Legal
The lawyer from São Paulo, Dra. Valderez Simensatto, has just joined the company Luzone Legal, integrating the area of Family Business Law.
With 25 years of experience, it comes to strengthen the operation and strategy of the firm to meet the growing demand of business clients in the family area.
Dr. Valderez holds a specialization in Contracts from CEU Law School; in Comparative Law, by the Pontifical Catholic University of São Paulo; and in Constitutional Law, by the Faculdade de Direito Damásio de Jesus.
Her work at Luzone Legal will specialize in the complex family relations that involve the business area.
We wish success and achievements in this new professional stage!
More News: