Categoria: Luzone Legal
LUZONE LEGAL ADVOGADOS CONVIDA PARA O EVENTO BUSINESS CONFERENCE: PROTEÇÃO JURÍDICA PATRIMONIAL
LUZONE LEGAL INVITES FOR THE EVENT BUSINESS CONFERENCE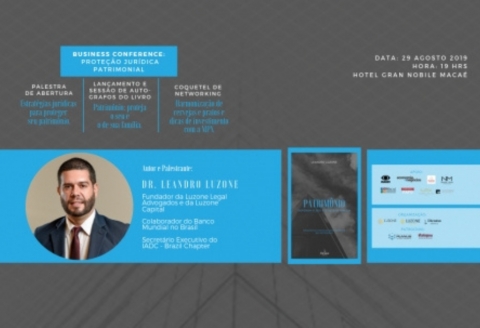 LUZONE LEGAL ADVOGADOS CONVIDA PARA O EVENTO "BUSINESS CONFERENCE: PROTEÇÃO JURÍDICA PATRIMONIAL"
Aprenda a proteger seu patrimônio e o de sua família!
Evento inédito e imperdível em Macaé, com sorteio de prêmios e brindes, coquetel de networking com harmonização de cervejas artesanais e pratos especiais, e dicas de investimento com a MPX - Agente XP Investimentos!
VOCÊ É NOSSO CONVIDADO ESPECIAL!
Inscrições em: https://forms.gle/5f12d8yy4kH6ykKdA
Obs. 1: Evento gratuito, com vagas limitadas. Garanta logo sua inscrição!
Obs. 2: O livro será vendido no evento pelo valor de R$ 39,90, por meio de dinheiro ou cartão.
Obs. 3: Estacionamento disponível no local do evento, ao custo de R$ 10 reais, sem limitação de hora, sujeito a capacidade máxima do estacionamento.
Obs. 4: Credenciamento entre 18h e 18h30, e início do evento às 19h.
Link of the event: https://www.facebook.com/events/716546262129530/?active_tab=about
LUZONE LEGAL INVITES FOR THE EVENT "BUSINESS CONFERENCE: ASSET LEGAL PROTECTION
Learn how to protect your assets and those of your family!
An unprecedented and unmissable event in Macaé, with prize draw and promotional gifts, networ-king cocktail with harmonization of handmade beers and special dishes, and investment tips with MPX - XP Investimentos Agent!
YOU ARE OUR SPECIAL GUEST!
Registration at: https://forms.gle/5f12d8yy4kH6ykKdA
Note 1: Free event with limited spaces. Secure your application soon!
Note 2: The book will be sold at the event for R$ 39.90, by cash or card.
Obs 3: Parking available at the event, at the cost of R$ 10,00, without time limitation, subject to capacity of the parking place.
Note 4: Accreditation between 18h and 18h30, and start of the event at 19h.
Link: https://www.facebook.com/events/716546262129530/?active_tab=about
More News: