Categoria: Luzone Legal
LUZONE LEGAL É RECOMENDADA PELA INTERNATIONAL ADVISORY EXPERTS
LUZONE LEGAL IS RECOMMENDED BY INTERNATIONAL ADVISORY EXPERTS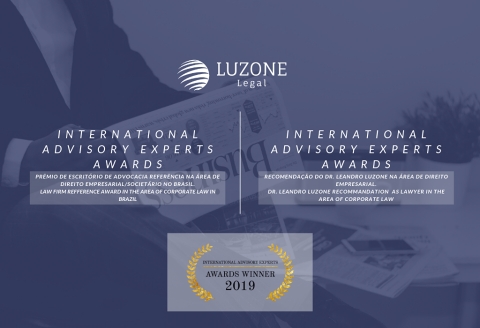 LUZONE LEGAL É RECOMENDADA PELA INTERNATIONAL ADVISORY EXPERTS
Após pesquisa no mercado com diversas bancas de advocacia no Brasil, a Luzone Legal Advogados foi indicada para o International Advisory Experts Awards 2019 como referência na área de Direito Empresarial / Direito Societário no Brasil.
O fundador da banca, Dr. Leandro Luzone, também foi recomendado como advogado na área do Direito Empresarial, acompanhando a indicação do escritório no referido diretório jurídico interna-cional.
A International Advisory Experts é uma aliança global de firmas jurídicas, financeiras e de consul-toria bem estabelecidas e experientes, comprometidas em oferecer aos clientes soluções especializa-das para suas necessidades de negócios internacionais.
LUZONE LEGAL IS RECOMMENDED BY INTERNATIONAL ADVISORY EXPERTS
After a research in the market with several law firms in Brazil, Luzone Legal Advogados was ap-pointed for the International Advisory Experts Awards 2019 in the area of Corporate Law in Brazil.
The founder of the firm, Dr. Leandro Luzone, was also recommended as lawyer in the area of Corporate Law, accompanying the appointment of the firm.
International Advisory Experts is a global alliance of well-established and experienced legal, finan-cial and consulting firms committed to providing customers with specialized solutions for their international business needs.
More News: