Categoria: Luzone Legal
Leandro Luzone participa como moderador no 2nd Subsea & Drilling Brazil Conference
Leandro Luzone participates as moderator at the 2nd Subsea & Drilling Brazil Conference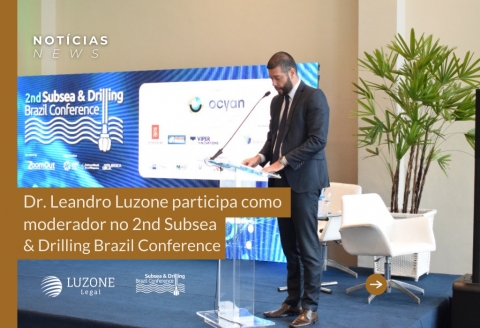 O sócio fundador da Luzone Legal, Leandro Luzone, participou nos dias 30.11 e 01.12 do 2nd Subsea & Drilling Brazil Conference, realizado no Hotel Prodigy, no Aeroporto de Santos Dumont, no Rio de Janeiro.
A conferência é o maior encontro de discussão para assuntos relacionados a Subsea e Drilling da Indústria de óleo e gás.
Na conferência, Luzone mediou a apresentação do Sr. Mike Dubose, do IADC Houston, sobre Advanced ESG on Drilling Rigs.
Luzone Legals founding partner, Leandro Luzone, participated on November 30th and December 1st at the 2nd Subsea & Drilling Brazil Conference, held at the Hotel Prodigy, at Santos Dumont Airport, in Rio de Janeiro.
The conference is the largest discussion meeting for issues related to subsea and drilling in the oil and gas industry.
At the conference, Luzone mediated a presentation by Mr. Mike Dubose of IADC Houston on Advanced ESG on drilling rigs.
More News: