Categoria: Luzone Legal
LEANDRO LUZONE É ENTREVISTADO PELA BANDNEWS TV SOBRE O MERCADO DE FUSÕES E AQUISIÇÕES
LEANDRO LUZONE IS INTERVIEWED BY BANDNEWS TV ABOUT THE MERGER AND ACQUISITIONS MARKET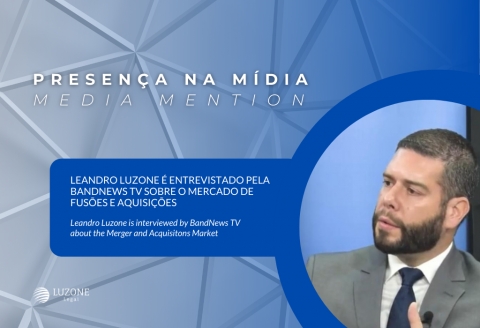 Em recente entrevista concedida ao Programa Empresários de Sucesso, da Band News TV, Leandro Luzone falou sobre o mercado de fusões e aquisições no Brasil. A entrevista foi gravada no estúdio do programa em São Paulo e foi conduzida pela jornalista Cláudia Barthel, ex-âncora do jornal da Rede TV.
Dentre os assuntos abordados, Luzone falou sobre o perfil e critérios utilizados pelas empresas que investem em fusões e aquisições, os setores mais procurados para esse tipo de investimento, e as etapas legais do processo de M&A, dentre outros assuntos.
O programa Empresários de Sucesso traz informações com público formador de opinião e tem como objetivo apresentar reportagens com empresários de diversos setores, que através de suas empresas e ideias inovadoras ganharam destaque junto aos consumidores.
Para assistir a entrevista na íntegra, favor clicar aqui.
LEANDRO LUZONE IS INTERVIEWED BY BANDNEWS TV ABOUT THE MERGER AND ACQUISITIONS MARKET
In a recent interview given to the Band News TV Entrepreneurs of Success Program, partner Leandro Luzone spoke about the mergers and acquisitions market in Brazil. The interview was recorded at the program`s studio in São Paulo and was conducted by journalist Cláudia Barthel, former anchor of Rede TV`s newspaper.
Among the subjects covered, Luzone spoke about the profile and criteria used by companies that invest in mergers and acquisitions, the most sought after sectors for this type of investment, and legal stages of the M&A process, among other matters.
The Entrepreneurs of Success program brings information with an opinion-forming audience and aims to present reports with entrepreneurs from different sectors, who through their companies and innovative ideas have gained prominence among consumers.
To watch the full interview, please click here.
More News: