Categoria: Luzone Legal
LUZONE LEGAL É DESTAQUE NA REVISTA LEX LATIN PELA EXPANSÃO DE SUA ATUAÇÃO NA EUROPA
LEGAL LUZONE IS ON SPOTLIGHT AT LEX LATIN MAGAZINE FOR THE EXPANSION OF ITS LEGAL PRACTICE IN EUROPE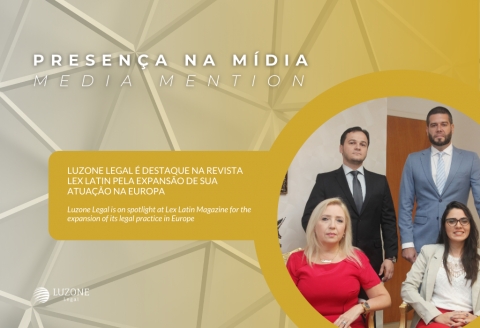 A Luzone Legal Advogados foi destaque na revista jurídica Lex Latin após o anúncio público de aumento de sua expansão internacional na Europa. Conforme noticiou a revista, a Luzone Legal fechou parceria com o escritório Cristofor Vladu & Associati, sediado em Bucareste, na Romênia.
A parceria tem como objetivo expandir a atuação da Luzone Legal no continente europeu, região onde o escritório já possui unidades em Porto e Lisboa. A presença estratégica na Romênia possibilitará aos clientes da banca, que buscam a internacionalização de seus negócios na Europa, receber a assessoria jurídica da Luzone Legal de forma cada vez mais global.
A revista Lex Latin é a primeira revista digital em espanhol especializada no mercado jurídico latino-americano, e é publicada por Latan Legal Ltd., um editorial sediado em Londres, Inglaterra.
Para ler a notícia na íntegra, favor clicar aqui.
LEGAL LUZONE IS ON SPOTLIGHT AT LEX LATIN MAGAZINE FOR THE EXPANSION OF ITS LEGAL PRACTICE IN EUROPE
Luzone Legal was highlighted in the legal magazine Lex Latin after the public announcement of its international expansion in Europe. As the magazine reported, Luzone Legal entered into a partnership with Cristofor Vladu & Associati, based in Bucharest, Romania.
The partnership aims to expand Luzone Legals operations in the European continent, a region where the office already has units in Porto and Lisbon. The strategic presence in Romania will enable the firm`s clients, who seek the internationalization of their businesses in Europe, to receive the legal advice of Luzone Legal in an increasingly global manner.
Lex Latin magazine is the first digital magazine in Spanish language specialized in the Latin American legal market, and it is published by Latan Legal Ltd., an editorial based in London, England.
To read the news in full, please click here.
More News: