Categoria: Luzone Legal
Representação Legal de Empresas Estrangeiras no Brasil
Legal Representation of Foreign Companies in Brazil
Por: Leandro Luzone - Advogado/Lawyer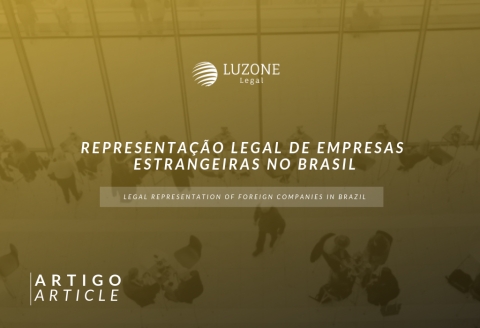 É muito comum na prática empresarial que as empresas estrangeiras tenham interesse em atuar como acionista ou investidora em uma sociedade brasileira, aportando bens ou valores em moeda, provenientes do exterior, com a integralização do capital.
Mas, para efetivar tal participação societária, a empresa estrangeira precisa manter permanentemente um representante legal, residente no Brasil, com poderes expressos pra responder pela empresa e, em seu nome, receber citações em ações interpostas contra ela.
Esse representante legal, que também é conhecido como procurador societário, receberá as atribuições do sócio ou acionista estrangeiro no Brasil para, em seu nome, realizar diversos atos perante entidades e autoridades públicas federais, estatais e municipais, de modo que a empresa estrangeira exerça seus direitos perante a empresa brasileira.
Como se sabe, o Código Civil Brasileiro dispõe que o mandato é exercido quando alguém recebe de outra pessoa os poderes para, em seu nome, realizar atos ou administrar interesses.
Assim, a empresa estrangeira que pretenda ser sócia de uma empresa no Brasil necessitará nomear uma pessoa física, brasileira ou estrangeira, residente no Brasil, e com visto permanente, em caso de pessoa física estrangeira, para exercer os atos societários de representação da sociedade perante entidades e órgãos públicos, especialmente para receber notificações judiciais em nome da companhia.
Justamente por tal razão, alguns tribunais entendem cabível a responsabilização civil e penal do representante legal pelo não cumprimento das regras definidas na lei, no contrato ou no estatuto social, a fim de reparar eventuais danos e prejuízos suportados pelos sócios estrangeiros.
Em contrapartida, o representante legal da empresa estrangeira também pode responder por processos judiciais promovidos contra a pessoa jurídica que representa, inclusive com a penhora de seus bens pessoais, devendo, portanto, estar plenamente ciente em relação a eventuais passivos e dívidas, para que não seja responsabilizado pela inadimplência da empresa estrangeira no Brasil.
Legal Representation of Foreign Companies in Brazil
It is very common in business practice for foreign companies to have an interest in acting as a shareholder or investor in a Brazilian company, by providing goods or money from abroad as capital contribution.
However, in order to effect such corporate participation, the foreign company must permanently maintain a legal representative, resident in Brazil, with express powers to respond by the company and, on its behalf, receive notifications in law-suits filed against it.
This legal representative, who is also known as a corporate representative, will receive the attributions of the partner or foreigner shareholder in Brazil to carry out various acts in his/its name before federal, state and municipal public entities and authorities, so that the foreign company exercises its rights before the Brazilian company.
As is known, the Brazilian Civil Code provides that the representation is exercised when someone receives from another person the powers to perform acts or administer interests on his/her behalf.
Thus, a foreign company wishing to become a partner in a company in Brazil will need to appoint a Brazilian or foreign individual, resident in Brazil, and with a permanent visa, in the case of a foreign individual, to exercise the corporate acts of representation of the company before entities and public bodies, especially to receive judicial notifications on behalf of the company.
For this reason, some courts consider the civil and criminal liability of the legal representative for failure to comply with the rules defined by law, contract or bylaws to remedy any damages suffered by the foreign partners.
On the other hand, the legal representative of the foreign company may also be liable for legal proceedings brought against the legal entity it represents, including the attachment of his personal property, and should therefore be fully aware of any liabilities and debts, in order to avoid any liability for the default of the foreign company in Brazil.
More News: