Categoria: Luzone Legal
Como Constituir uma Empresa Estrangeira no Brasil
How to Set Up a Branch of Foreign Company in Brazil
Por: Leandro Luzone - Advogado/Lawyer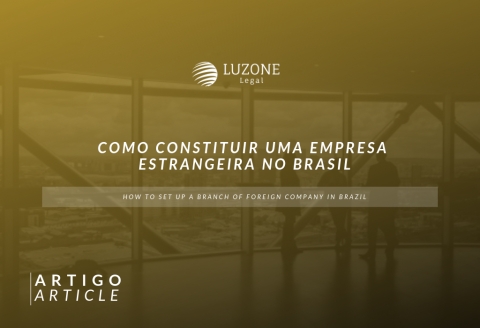 Para que uma empresa estrangeira seja constituída no Brasil, é necessário um prévio conhecimento das leis nacionais, sendo indispensável uma assistência jurídica com experiência nesse tipo de operação, para que o procedimento seja feito da forma mais correta e segura possível.
Inicialmente, para que a empresa estrangeira possa participar na qualidade de sócia de uma empresa brasileira, esta deve adquirir personalidade jurídica no Brasil, mediante a inscrição de seus registros nos órgãos competentes. Toda a documentação da empresa estrangeira deve ser legalizada com base na Convenção da Apostila de Haia e devidamente traduzida no Brasil por tradutor juramentado.
Além dos documentos de constituição e o registro da empresa estrangeira, que indiquem quem é o administrador ou diretor da empresa estrangeira, deverá ser assinada a procuração da empresa estrangeira, nomeando seu representante legal domiciliado no Brasil, que deverá ser brasileiro nato, naturalizado ou estrangeiro com visto permanente no Brasil, além de possuir residência fixa no país, já que o representante legal terá responsabilidades jurídicas e fiscais perante as autoridades brasileiras.
Posteriormente, deverá ser efetivada a inscrição da empresa estrangeira no Banco Central do Brasil para que esta esteja apta a fazer investimentos no Brasil e consequentemente obter o número do Cadastro Nacional de Pessoa Jurídica, cujo registro é simultâneo no Banco Central e na Receita Federal.
Cumpridas todas as formalidades mencionadas, a empresa estrangeira estará em condições de ser sócia em uma empresa brasileira, que deverá ser constituída para o início das operações da empresa estrangeira no Brasil. Para a constituição, devem ser observadas a estruturação jurídica e o cumprimento dos requisitos legais para a constituição de uma empresa brasileira, tais como a denominação social, a determinação do endereço, objeto social e capital social, e a definição do tipo societário a ser adotado.
Por fim, depois de definido o tipo societário, faz-se necessária a escolha dos administradores, que deverão ser residentes no país e com situação fiscal regular perante as autoridades brasileiras, para posterior registro do contrato social ou estatuto social da empresa brasileira na Junta Comercial, adquirindo, assim, a personalidade jurídica para atuar no Brasil.
How to Set Up a Branch of Foreign Company in Brazil
In order for a foreign company to be opened in Brazil, a prior knowledge of the national laws is necessary, and a legal assistance with experience in this type of operation is indispensable, so that the procedure is done in the most correct and safe way possible.
Initially, in order for the foreign company to participate as a partner of a Brazilian company, it must acquire legal personality in Brazil, by registering its records in the competent bodies. All documentation of the foreign company must be legalized based on the Hague Apostille Convention and duly translated in Brazil by sworn translator.
In addition to the incorporation documents and the registration of the foreign company, indicating who is the director or director of the foreign company, the power of attorney of the foreign company must be signed, appointing its legal representative domiciled in Brazil, who must be Brazilian born, naturalized or Foreigner with permanent visa in Brazil, besides having a fixed residence in the country, since the legal representative will have legal and fiscal responsibilities before the Brazilian authorities.
Subsequently, the foreign company must be registered in the Central Bank of Brazil so that it is able to make investments in Brazil and consequently obtain the number of the National Registry of Legal Entities, whose registration is simultaneous with the Central Bank and the Federal Revenue Office.
Once all the mentioned formalities have been fulfilled, the foreign company will be able to be a partner in a Brazilian company, which must be set up for the beginning of operations of the foreign company in Brazil. For the constitution, the legal structure and compliance with the legal requirements for the constitution of a Brazilian company, such as the corporate name, address determination, corporate purpose and capital stock, and the definition of the corporate type to be adopted must be observed.
Finally, once the corporate type has been defined, it is necessary to choose the managers, who must be resident in the country and with regular tax status before the Brazilian authorities, for subsequent registration of the articles of incorporation or bylaws of the company in Brazilian Board of Trade, thus acquiring the legal personality to operate in Brazil.
More News: