Categoria: Luzone Legal
Saiba Como Averbar Uma Sentença Estrangeira Em Cartório No Brasil
Find Out How To File a Foreign Sentence In a Register Office in Brazil
Por: Leandro Luzone - Advogado/Lawyer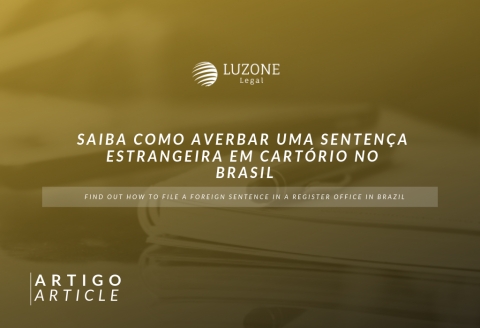 A sentença estrangeira de divórcio consensual já pode ser averbada diretamente em cartório de Registro Civil das Pessoas Naturais, sem a necessidade de homologação judicial no Superior Tribunal de Justiça.
A nova regra regulamenta a averbação direta da sentença estrangeira de divórcio, atendendo à nova redação do artigo 961, parágrafo 5º, do novo Código de Processo Civil: "a sentença estrangeira de divórcio consensual produz efeitos no Brasil, independentemente de homologação pelo Superior Tribunal de Justiça".
No entanto, o procedimento só é válido em caso de divórcio consensual simples ou puro, que não envolver a guarda de filhos, pensão alimentícia ou partilha de bens, que corresponde ao divórcio consensual qualificado.
Logo, quando há envolvimento de guarda de filhos, alimentos ou partilha de bens, a homologação judicial continua sendo necessária para que a sentença estrangeira tenha efeitos no Brasil, assim como os divórcios litigiosos, que continuam exigindo a homologação.
O procedimento regulamentado vale para sentenças e também para decisões estrangeiras não judiciais que, pela lei brasileira, tenham natureza jurisdicional, sendo que a averbação direta não exige nenhuma manifestação de autoridade judicial brasileira.
Mesmo em caso de sentença estrangeira de divórcio amigável continua sendo recomendável a atuação de um advogado para acompanhamento do procedimento, a fim de dirimir as dúvidas das partes envolvidas e providenciar os documentos necessários para o registro da sentença estrangeira no cartório do registro civil das pessoas naturais.
Find Out How To File a Foreign Sentence In a Register Office in Brazil
The foreign divorce decree of a consensual divorce may already be registered directly at a Registry Office of Natural Persons, without the need for judicial approval in the Superior Court of Justice.
The new rule regulates the direct registration of the foreign divorce decree, in accordance with article 961, paragraph 5, of the new Code of Civil Procedure: "a foreign divorce decree has effect in Brazil, regardless of homologation by the Superior Court of Justice".
However, the procedure is valid only in the case of simple or pure consensual divorce, which does not involve child custody, alimony or sharing of assets, which corresponds to the qualified consensual divorce.
Therefore, when there is involvement in custody of children, alimony or sharing of assets, judicial approval is still necessary for the foreign judgment to have effects in Brazil, as well as litigious divorces, which continue to require judicial homologation.
The regulated procedure applies to judgments and also to non-judicial foreign judgments that, under Brazilian law, have a jurisdictional nature, and the direct registration does not require any manifestation of Brazilian judicial authority.
Even in the case of a foreign judgment of a friendly divorce, it is still advisable to have a lawyer to follow the procedure in order to resolve the doubts of the parties involved and to provide the documents necessary for the registration of the foreign judgment in the civil registry office of natural persons.
More News: